Akai MPC2000XL Midi Production Center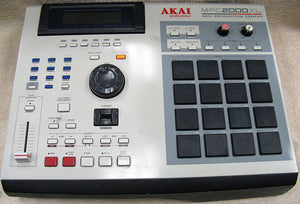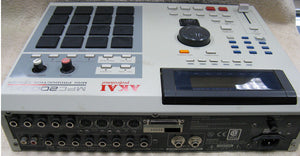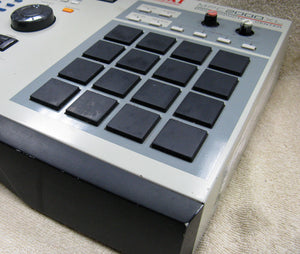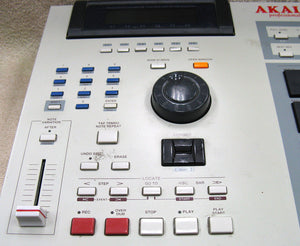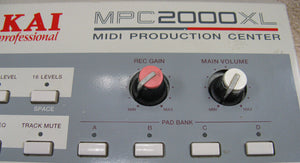 Product image 1

Product image 2

Product image 3

Product image 4

Product image 5

Product image 6

Product image 7

Overall, this piece is in good condition but it has definitely lived a good life as you can see in the photos. Everything appears to be working properly (buttons, pads, display, etc.) but we really have no idea how to work this thing!!

The Akai Professional MPC2000XL MIDI Production Center combines a 64-Track MIDI Sequencer and a 32-voice Stereo Digital Sampler, with 16 velocity and pressure sensitive rubber pads, providing rock solid sequencing and drum programming combined with powerful sampling facilities in one convenient and portable desktop unit.
The MPC2000XL inherits many of the major features of the original MPC such as the legendary "feel" and "groove" so that you can be sure that your beats and sequences just swing. It also features the original MPC60's intuitive transport and locate controls, the unique NOTE REPEAT function, plus new additions such as four bank keys to effectively provide 64 pads, multi-program playback, multi-track recording, simultaneous playback of a second sequence, Next Sequence key, Track Mute key, TimeStretch, Slice Sound, Resampling, plus folder file management. Add to these an improved friendly and intuitive user interface thanks to the graphic LCD, two MIDI ins and 32 MIDI channels via the two MIDI outputs, and options for multiple audio outputs, multi-effects, SMPTE Time Code and even Flash Rom memory, and you have a dependable "switch on and work" solution to computer sequencer headaches.
The MPC2000XL comes with 2MB of onboard memory as standard that can be expanded up to 32MB of RAM using standard SIMMs. There are two options for onboard storage: a 3.5" Floppy drive (MPC2000XL) or a Multi-Card drive (MPC2000XL-MCD) that supports various types of removable flash memory, such as Compact Flash, Smart Media, Memory Stick, and Secure Digital. The MPC2000XL also includes a 50pin SCSI interface for connection to external SCSI drives such as CD-ROM drives, hard drives or ZIP drives.
A compact and rugged dedicated hardware sequencer/sampler that is equally at home on stage as it is in the studio. No computer needed! Whether you're producing drum 'n' bass, sequencing a rack-full of MIDI modules, performing live, programming intricate drum parts or triggering loops, you'll love the self-contained convenience and ease of use the MPC2000XL gives you and the MPC2000XL's friendly and intuitive user interface simplifies the expression of your creativity.
Sound Generator
Data format: 16-bit linear WAV
Sampling rate: 44.1 kHz
Memory: 2MB standard, expandable to 32MB with 72pin SIMMsn
Preset sound memory: 8MB FlashRom option (FMX008M)
Recording time: 21.9 sec. mono / 10.9 sec. stereo (2MB), around 6mn mono / 3mn stereo (32MB))
Polyphony: 32-voice
Filters: 1 dynamic resonant 12dB/octave low-pass filter per voice
Number of active programs: 4 (with up to 64 pads per program)
Maximum samples in memory: 256
Sequencer
Capacity: 300,000 notes
Resolution: 996pq
99 Sequences
64 Tracks per sequence
32 Midi output channels (16 channels x 2 output pors)
Song mode: 20 songs, 250 steps per song
Simultaneous playback of a second sequence
MIDI Sync: Master/Slave, MIDI Clock, MTC, MMC
Drumpads
16 velocity and pressure sensitive pads
4 pad banks
16 Levels: Velocity, Tuning
Automated Pad Mixer (Level and Pan)
Note variation slider controls Level, Pitch, Filter Cutoff, Attack, Decay
Track Mute and Next Sequence features for live performance
Connections
Record Input (L and R): jack x 2, balanced
Digital Input: RCA x 1, SPDIF (option)
Stereo Output (L and R): jack x 2, unbalanced
Individual Outputs: jack x 8, unbalanced (option)
Headphone Output: stereo jack x 1
Digital Output: RCA x 1, SPDIF (option)
MIDI: 2 x MIDI In and 2 x MIDI Out
SCSI: 50pin high density connector
General
Display: 248x60 dot graphic tilting LCD
Multi-Card drive (MCD model only): Compact Flash, Memory Stick, Smart Media, Secure Digital
Standard accessories: 1x CD-ROM sound library, Power cable
Power: 100-240V AC, 50/60Hz
Consumption: 23W
Dimensions (H x W x D): 4.17" x 15.95" x 8.99" (106mm x 405mm x 331mm)
Weight: 12.13lbs (5.5kg)