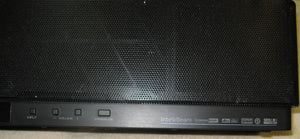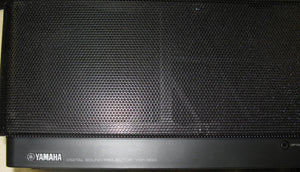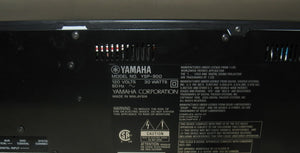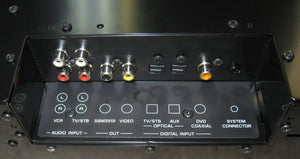 Product image 1

Product image 2

Product image 3

Product image 4

Product image 5

 Yamaha YSP-900 Digital Sound Projector
(Soundbar speaker only - NO REMOTE)
MAIN FEATURES
True surround sound
Sensational multi-channel sound from DVDs, other digital sources and even TV
Digital amplifier built-in
Large range of optimum listening positions thanks to a wider soundstage
3 CINEMA DSP programs
Two Volume Mode with Night Listening Enhancer and TV Equal Volume mode
Dolby Digital, DTS, Dolby Pro Logic II and DTS Neo:6 compatibility
TruBass for more dynamic bass sound
Elegant, space-saving design
Elegant, space-saving design
No need for numerous speakers and cables
Slim profile matching for 32" flat TVs and monitors
Can be wall mounted or placed in a shelf or rack
Design is more elegant, less obtrusive than multiple speaker boxes
Advanced technology and functions
Advanced technology and functions
IntelliBeam automated system calibration with Direct Start
My Beam mode directs the sound to listener's position at the touch of a button
Four other sound modes: 5 Beam, 3 Beam, 3 Beam + Stereo, Stereo
Multi-language on-screen display (English, Spanish, French and German)
Turn On Volume presets volume level at power on
OTHER NOTABLE FEATURES
TruBass: uses harmonics to make the bass from small speakers deeper and richer
Turn On Volume: volume comes on at a preset level when power is turned on
Max volume
Memory save lock
Parameter settings
0.1W standby power consumption
Preset remote unit
Simple Connection and Flexible Placement with Multi-Language On-Screen Display
Connecting the YSP-900 is much simpler than with conventional home theater systems, because multiple speaker cables are not necessary. Placement is flexible – the component can be positioned above or below the display in the front-center of the room, or in either of the front corners. It is compact enough that space should not be a problem in almost any setting. It can also be wall-mounted, or placed on a shelf or rack. And, through this component alone, video input can be selected from any of two component inputs to a component output, or from three composite inputs to a composite output with superimposed on-screen display menus. It also offers four languages (English, French, German and Spanish).
IntelliBeam™ Automated Calibration System
This Yamaha exclusive feature ensures optimum multi-channel sound reproduction with accurate image location. By monitoring and analyzing the sound with the microphone included with the YSP-900, IntelliBeam automatically sets the best beam angles and modes, while optimizing the level and frequency response of each beam. It also offers Direct Start function via remote unit. This makes initial setup both extremely simple while acoustically perfect. Manual setup is also possible.